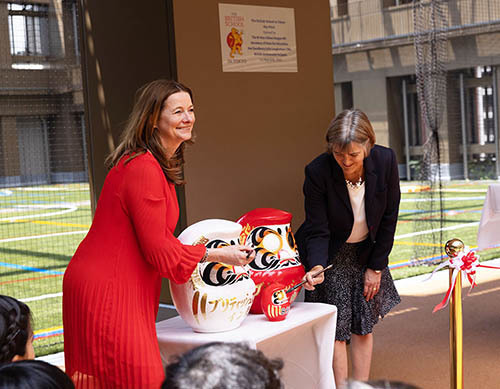 [Picture: Secretary of State for Education Gillian Keegan and British Ambassador to Japan Julia Longbottom painting the left eyes of the daruma dolls]
The Education Secretary Ms Keegan painted the left eye of a white daruma doll while the British Ambassador Ms Longbottom did with a red one, a traditional Japanese way to make a wish for prosperity and outstanding education, and cut the red ribbon, to mark the opening of the Sky Pitch at BST's new Primary School Campus at Azabudai Hills.

As the only international school located in the new prestigious development of Azabudai Hills, BST is an honoured partner in the Mori Building Corporation's regeneration of Toranomon Azabudai - the biggest residential, commercial and educational project in central Tokyo for more than a generation.

From 28 August 2023, the new campus will welcome students aged 3 to 11 years old from the international community in Japan. This will be the first time in BST's distinguished history, to unite Primary children from BST's current Showa and Shibuya campuses.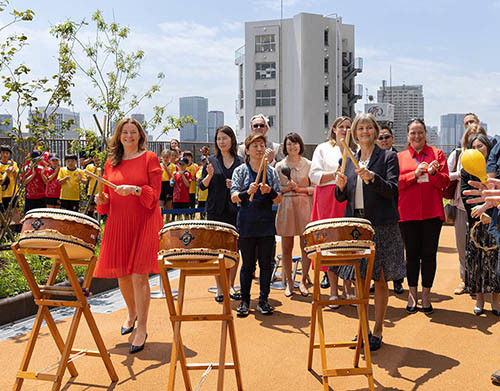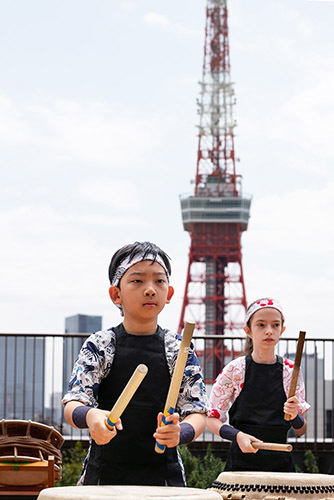 [Picture: BST students performing Taiko drums with Secretary of State for Education Gillian Keegan and British Ambassador to Japan Julia Longbottom]
Designed by world-famous architects Thomas Heatherwick Studios, the new campus includes 7 floors above the ground (including a roof garden) and one subterranean floor, featuring an indoor swimming pool, two libraries, an art studio, a Digital Technology Studio for Science/Technology/Engineering and Mathematics (STEM) learning, a sports hall and two sports pitches.

Neighbouring Tokyo Tower, BST's new Primary School Campus is located in the very heart of Tokyo, with easy access to numerous residential buildings, offices, restaurants, shopping malls and hotels. It is also only a short distance from BST's Secondary School site located at Showa Women's University, which is part of a rapidly expanding educational hub in Sangenjaya.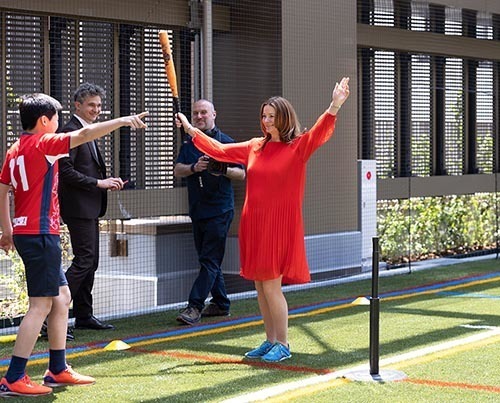 [Picture: Secretary of State for Education Gillian Keegan playing Tee Ball with BST students at the Sky Pitch]
Secretary of State for Education Gillian Keegan, said,
A British school designed by British architects, in the heart of Japan, partnering with one of the most important Japanese companies, shows how well and widely British education has been accepted in Japan, and the close links that we celebrate between our countries.
Based on the English National Curriculum, The British School in Tokyo provides a well-designed broad and balanced curriculum for students aged 3 to 18. The School's experienced educators are highly trained professionals who seek to ensure all students are supported to fulfil their potential both in and beyond the classroom. BST's 100+ extracurricular clubs and extensive facilities at these central Tokyo campuses enhance the students' experience and help to ensure each student thrives and develops their own unique talents.

Mr Paul Tough, Principal of The British School in Tokyo, said,

We are honoured to welcome the Secretary of State and Her Excellency the Ambassador to BST's new Primary school campus at Azabudai Hills. Today's visit marks another significant milestone in BST's proud history at the heart of Tokyo and its preeminent status as Japan's leading British international school.
■
About The British School in Tokyo
Opened by then the British Prime Minister Margret Thatcher, The British School in Tokyo was established as one of the schools within the Shibuya Kyoiku Gakuen School Corporation in 1989. In the past 34 years it has continually grown and flourished, with a commitment to excellence – delivering education founded in the English National Curriculum and embracing all that our uniquely international and Japanese setting provides.

BST currently provides world-class education to over 1,000 students representing over 60 nationalities in our two campuses within Tokyo, starting with Nursery classes for children aged 3 through to Year 13 aged 18 years old. BST developed a reputation as one of the best international schools in Japan, and its students transfer to leading universities worldwide.

BST is now at a point where it has an opportunity to move forward in new and exciting directions that will provide its students with transformative learning experiences.

The School's mission is to nurture each student's unique potential and strive to help them create a strong sense of self built around purpose and passion. While the School aims to develop the following values:

● We strive to achieve our personal best.
● We are honest and show kindness, compassion and respect for others.
● We are curious, creative and innovative in our thinking.
● We embrace diversity and celebrate individuality.
● We are internationally minded and culturally aware.
● We have a sense of social and environmental responsibility.

■
About the new Azabudai Hills Campus
Address: Azabudai Hills, 1-3-3 Azabudai, Minato-ku, Tokyo
School Building: Approx. 15,000m²
Sports pitches: Two areas of approx. 900m²