First time ever! Covering all grade levels from preschool to high school
The Financial Services Agency (FSA) and Tricor Japan, which supports the overseas expansion of companies, will hold online seminars on Thursday, November 10 and Thursday, November 17 to provide an in-depth look at international schools and boarding schools in Japan.The editors of eduJUMP! have also been confirmed as guest speakers.

The theme is "International Education Options from Preschool to Higher Education in Japan."

In addition to explaining the world's two major curricula, the International Baccalaureate (IB) and Cambridge International, 49 leading international schools and boarding schools in Japan are introduced at a glance.
Seminar on all aspects of international education
This is the first ever online seminar that will serve as a "Guide to International Education" covering preschool through higher education.

The Japanese government aims to establish Japan as an "international financial center" open to the world, and is seeking to attract human resources, companies, and capital through various approaches, including tax incentives and financial deregulation.

FSA has positioned the state of "international education" as an important factor in attracting financial businesses and financial experts from around the world. By holding this seminar, we aim to provide the latest information and deepen understanding of Japan's international education environment.
A list of 49 leading schools in Japan
FSA's "Int'l schools and Boarding schools Online Seminar" is designed to inform the world about the educational infrastructure in Japan. We look forward to your participation.

*This seminar is a "special" edition of the webinar series that the FSA is holding to promote the "International Financial Center" concept. Not only financial service providers, but also any corporation or individual is welcome to participate.

*The theme for both days is the same, but the language (English on the 10th, Japanese on the 17th) and speakers are different. You can attend each day only.

●About "International Financial Center" : Japan Financial Services Agency
https://www.fsa.go.jp/internationalfinancialcenter/en/

●About "Financial Start-up Support Program": Tricor Japan
https://www.tricorglobal.com/tricor-japan-financial-services-agency-start-up-support-program
Held on Thursday, November 10 International schools and Boarding schools Online Seminar (English)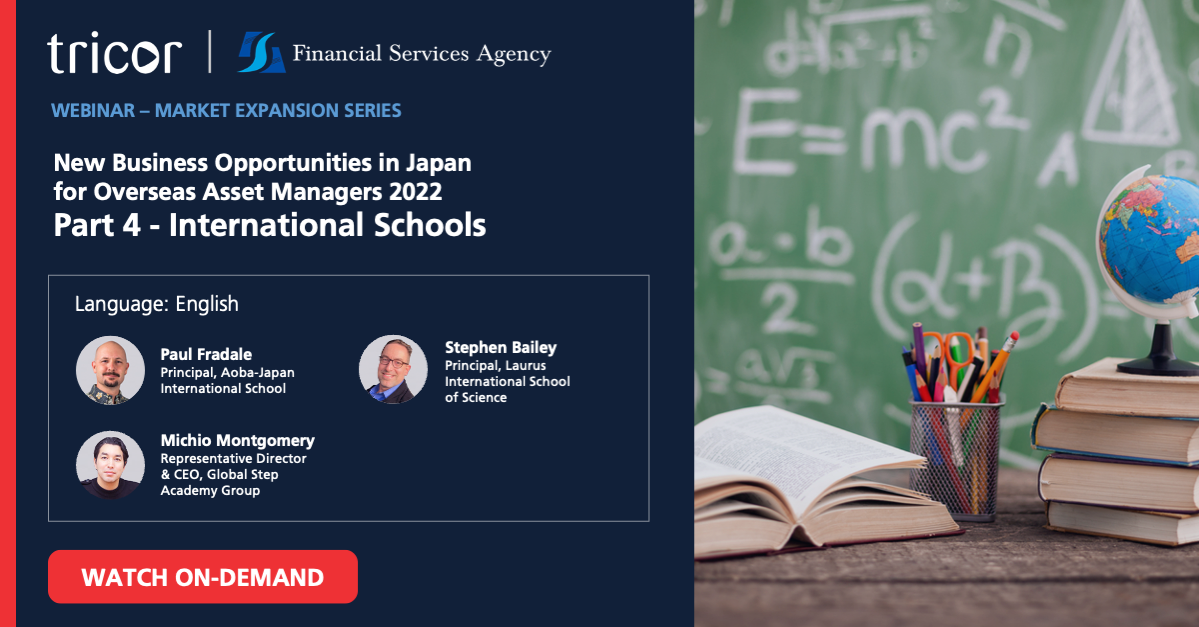 Date: Thursday, November 10, 2022
Webinar tool: Online (Zoom) *URL will be sent to you after registration
Time (Japan time): 16:00 - 17:30(Open:15:50)
Language: English
Webinar is designed for Parents with children from infants to high school students, educators
Fee: Free
Sponsored by: Japan Financial Services Authority (JFSA), Tricor Japan
Media Partner: The International School Times and eduJUMP!


1) The world's two major curricula (International Baccalaureate (IB) vs. Cambridge International)
2) 49 leading schools in Japan
3) Q&A


◎Guest speakers
- Aoba Japan International School, Head of Hikarigaoka Campus -
Paul Fradale
-Laurus International School of Science, Principal -
Stephen Bailey
-The Representative Director & CEO of Global Step Academy Group -
Michio Montgomery
◎Featured speakers
- Japan Financial Services Agency -
Takuma Tanaka
- Tricor Japan Director-
Kevin Smythe
◎Moderator
- Tricor Group, Group Chief Commercial Officer-
Gary Tok
Held on Thursday, November 17 International schools and Boarding schools Online Seminar (Japanese)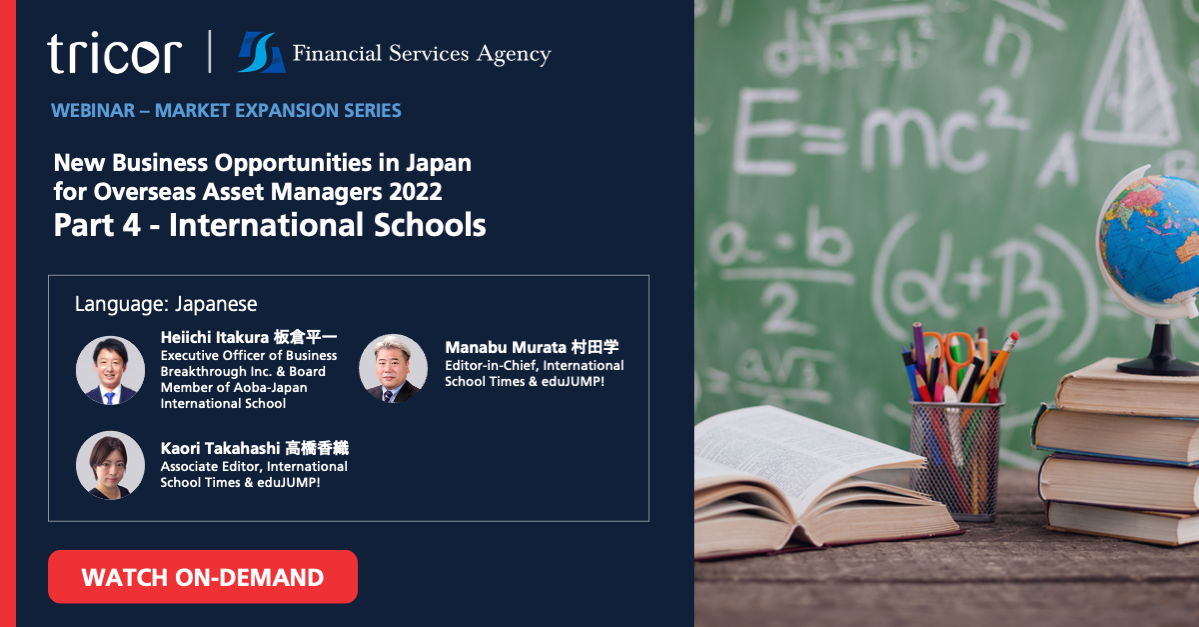 Date: Thursday, November 17, 2022
Webinar tool: Online (Zoom) *URL will be sent to you after registration
Time (Japan time): 16:00 - 17:30(Open:15:50)
Language: Japanese
Webinar is designed for Parents with children from infants to high school students, educators
Fee: Free
Sponsored by: Japan Financial Services Authority (JFSA), Tricor Japan
Media Partner: The International School Times and eduJUMP!


1) The world's two major curricula (International Baccalaureate (IB) vs. Cambridge International)
2) 49 leading schools in Japan
3) Q&A


◎Guest speakers
- Executive Officer of Business Breakthrough Inc. and a board member of Aoba Japan International School -
Heiichi Itakura
-Editor-in-Chief, International School Times & eduJUMP!-
Manabu Murata
-Associate Editor, International School Times & eduJUMP!-
Kaori Takahashi
◎Featured speakers
- Japan Financial Services Agency -
Maho Miyakawa
- Tricor Japan Director-
Sho Yamauchi
◎Moderator
- Tricor Japan Corporate Development Director -
Akie Hamagishi
◎Application for media coverage