・The vibrant installation marks the first launch for acclaimed British Artist Morag Myerscough's artwork in Japan.
・The exhibition (part of the 'Clean Power' campaign) aims to inspire and accelerate positive climate action.
・From 31 January to 27 February 2023, visitors to the atrium of Mori Building's Roppongi Hills development can see the latest iteration of the installation, which has previously been displayed on London's famous Oxford Street and iconic Piccadilly Circus, at COP26 in Glasgow and at C4EE in the USA.
・Students from The British School in Tokyo have co-worked with the artist and developed the artwork, showcasing their shared optimism and determination to build a positive climate future.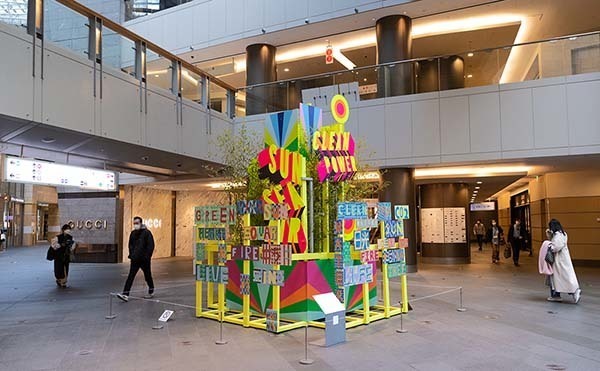 The artwork 'CLEAN POWER' is being displayed at Roppongi Hills, Tokyo
Part of a solutions-based global movement to inspire and educate individuals and businesses towards positive climate action, the 'Clean Power' installation incorporates brightly coloured, hand-painted panels stating 'CLEAN POWER', alongside the elements 'SUN', 'SEA' and 'AIR', which help the generation of renewable energy. The artwork aims to creatively and positively urge people to support renewables and transition away from fossil fuels.

Artist Morag Myerscough has exhibited 'CLEAN POWER' installations in the UK and the US, with plans for events in Italy, Australia and New Zealand. The exhibition in Tokyo will not only feature the latest iteration of the installation, which has previously been displayed on London's famous Oxford Street and iconic Piccadilly Circus, at COP26 in Glasgow and at C4EE in the USA, but also be showcased together with art panels by Year 9 art students from The British School in Tokyo. The art panels will be integrated with the sculpture, showcasing their shared optimism and determination to build a positive climate future. The exhibition from 31 January 2023 marks the first launch of 'CLEAN POWER' in Japan.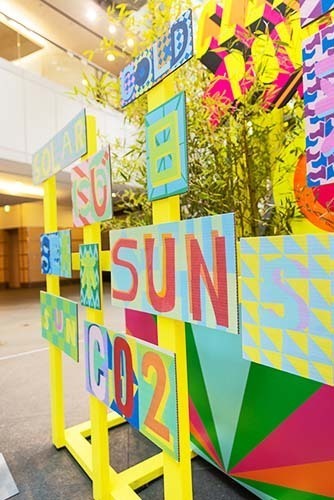 Speaking of its launch, Morag Myerscough, Artist, said,
My work is synonymous with bold colours and powerful positive messaging. It is so wonderful to see such an iconic site in Tokyo filled with colour and hope. With this work I wanted to put out an optimistic approach towards our future, if we work together we can help make the changes we need to happen. The oranges, greens and blues represent the sun, sea and air that we need to power ourselves to a renewable future.
Oliver Wayman, Clean Power Founder commented,
We're delighted to be working with The British School in Tokyo on this installation. It's imperative that young people are at the heart of the discussion on climate change. In the current global media landscape, it is often a narrative that is doused in negativity. With this sculpture, we wanted to show that you can use art and creativity to focus on positive climate solutions and to inspire action. The brilliant contributions from The British School in Tokyo demonstrate the optimism that young people have and the drive they show to make positive environmental choices and sustain the planet that we love.
Paul Tough, Principal of The British School in Tokyo, said,
As a school community, we seek to be courageous, show respect and take responsibility. As such, we are delighted, in conjunction with our sponsors to have brought Morag Mysercough's vision to reality in Tokyo. Our students have been inspired by the visual impact of Morag's artwork and their ability to express their commitment to sustainability and contribute to the message of hope for our planet. The opportunity for BST to collaborate with Morag Myerscough as part of the Clean Power Project was unmissable. Working with an iconic artist that features as part of their visual arts curriculum has been a fantastic opportunity for our students. We are incredibly proud of their combined effort and the outcome.
The exhibition is sponsored by ESR Group Limited, APAC's largest real asset manager
powered by the New Economy.

Stuart Gibson, Co-founder and Co-CEO, ESR Group Ltd, said,

We are thrilled to be the official partner of British Artist Morag Myerscough's creative
artwork to accelerate climate change in our communities. The programme aligns with our
ESG 2025 Roadmap, to further increase solar power generation in all operating markets and
work towards a 50% increase in ESR's rooftop solar power installed capacity by 2025. In
addition, we have stayed ahead of the curve by integrating sustainability features and low-
carbon innovations into our best-in-class facilities to mitigate environmental impacts.

The exhibition has been facilitated by the British Council in Japan.
Clean Power's mission is to educate and empower individuals, businesses and leaders to create positive social and environmental impact. Using art as a catalyst, underpinned by strong solutions-based actions, to drive systemic change and accelerate the transition towards a zero carbon future.
■
ABOUT THE BRITISH SCHOOL IN TOKYO (BST)
Founded in 1989, The British School in Tokyo currently provides world-class education to over 1,000 students representing over 60 nationalities aged 3 to 18 years old. It has developed a reputation as one of the best international schools in Japan, and its students transfer to leading universities worldwide. BST's mission is to nurture each student's unique potential and strive to help them create a strong sense of self built around purpose and passion. The School has worked with various acclaimed artists, designers and architects including Morag Myerscough, Thomas Heatherwick and Aoyama Satoru.
Morag Myerscough's mantra is 'make happy those who are near and those who are far will come. She has always been fascinated by how colour, pattern and words can change urban environments and people's perceptions of spaces into places. Her strong visual identity is instantly recognisable and her ambition is to create a sense of joy and belonging for all those who encounter it. Myerscough's work is designed to capture attention, drive action and create change.
ESR is APAC's largest real asset manager powered by the New Economy and the third
largest listed real estate investment manager globally. With over US$140 billion in total assets under management (AUM), our fully integrated development and investment
management platform extends across key APAC markets, including China, Japan, South
Korea, Australia, Singapore, India, New Zealand and Southeast Asia, representing over 95%
of GDP in APAC, and also includes an expanding presence in Europe and the U.S. ESR is
the largest sponsor and manager in APAC with a total AUM of US$45 billion.
Creating Space and Investment Solutions for a Sustainable Future is the centre of
what we do at ESR and it is what drives us to manage sustainably and impactfully in
the environment and the communities where we operate.

■
ABOUT THE BRITISH COUNCIL IN JAPAN
The British Council is the UK's international organisation for cultural relations and educational opportunities. We support peace and prosperity by building connections, understanding and trust between people in the UK and countries worldwide. We do this through our work in arts and culture, education and the English language. We work with people in over 200 countries and territories and are on the ground in more than 100 countries. In 2021–22 we reached 650 million people.